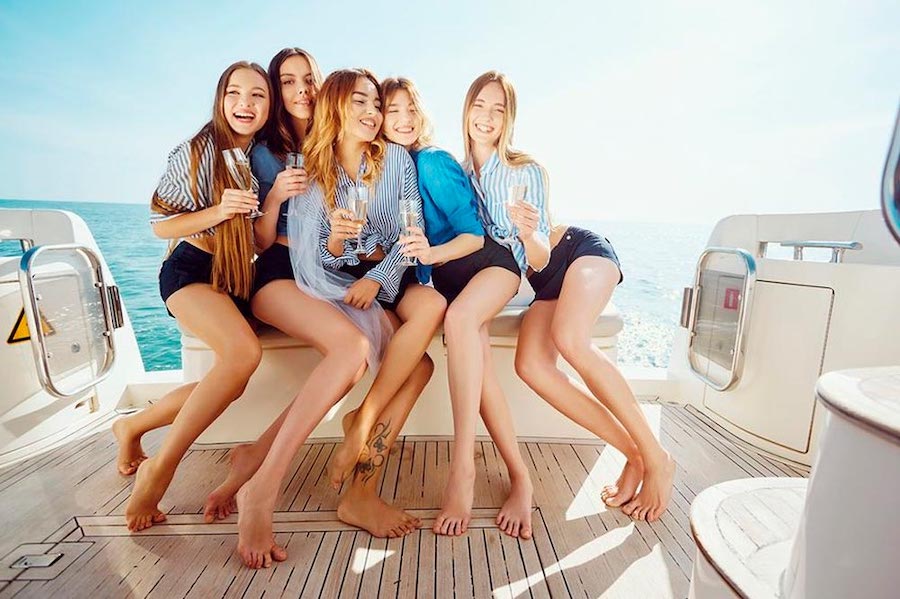 There is a danger of a solar eclipse…
caused by the beauty of each member of your ladies party on board! Here are some tips on how to spend a good time on a yacht "ladies only". 
Yes, we know that you have already been tired of hearing about photo and video shooting (with drone as well), but we cannot help talking about it again and again! Because it is really COOL! And may be much better if the whole party will wear colours which can be well harmonised. So to say you may choose the swimsuit or bikini in white-blue, turquoise-gold, pink-yellow colours or go for one colour for all. There is another alternative as well: colours may be different, but the swimsuits should be in one style, e.g. only bandeau or halter type of the bikini tops, one pieces swimsuit or so popular nowadays swim-dresses should be chosen for each girl from the group. 
Sometimes it is hard to choose one type of swimsuit for all, so there is another option  – to rent an amazing dress for shooting on the yacht. Usually, there are a lot of models of different sizes and styles, etc. You may also rent a flying dress – they look gorgeous on pictures. Certainly Everyone from your party will select ones in order to hide possible shortcomings and highlight the shape of the body.
One more option for those, who do not want to make too much of selecting the clothing, is the PinUp style party! Almost every woman has something girlish in her wardrobe in order to create such an image, for example fancy ribbons or bows for your Victory roll hairstyle, shorts, sexy dresses, and the most important – rich make-up (of course made with waterproof cosmetics). What is absent? Cupcake bar for sure! It will be arranged according to your wishes and tastes: cakes may be gluten or sugar free, full of cream within or just a sponge cake, and so on. 
The ladies party on the yacht is an ocean of emotion among the sea! Do not spare yourself from such a pleasure!