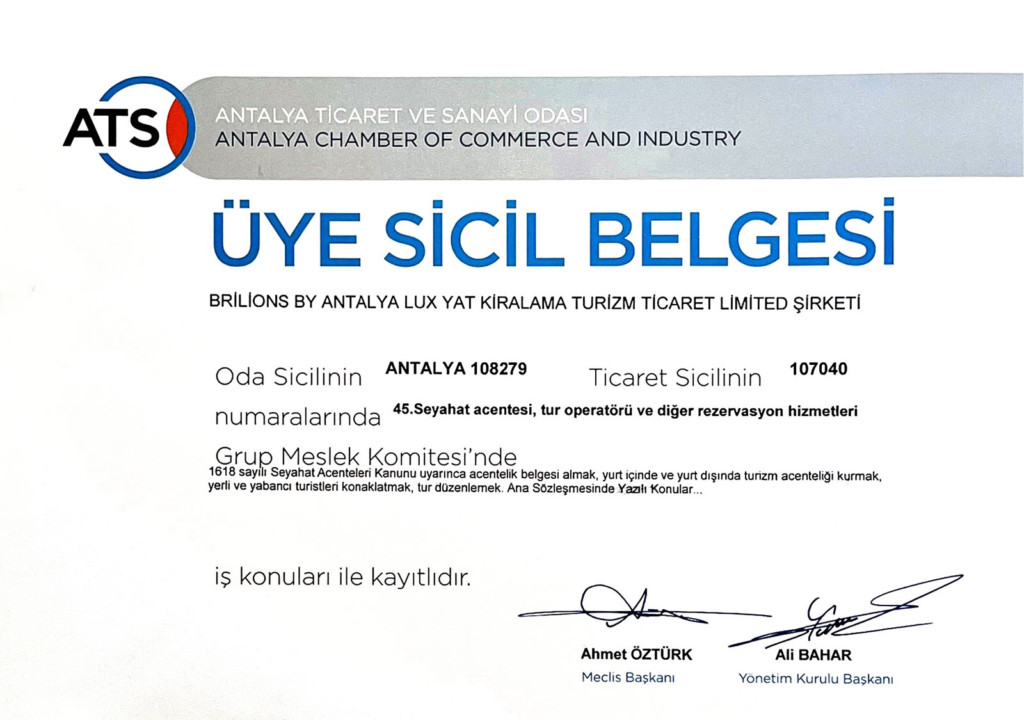 Brilions company suggests the best motor and sailing yachts, catamarans and gulets for rent according to your choice of route throughout Turkey. We have all required certificates, patents and licenses to carry out the tourist activity.
In addition to the sea tour, we are ready to take care of all the details and to offer you additional services: a transfer from the hotel to the harbour and back; jet ski, fishing, diving, decoration of the yacht for your holiday flowers, balloons, a photo and video shooting, creation of video with highlights from your voyage.
Our company Brilions is officially registered in Turkey, has all the necessary documents, certificates, patents and licenses for tourism activities!
You can be calm and confident, trusting your vacation to us – your trip on any boat is safe, insured and guaranteed (after making a prepayment and booking)!
We do business honestly and legally, we value our reputation!
Brilions is a member of the Association of travel agencies in Turkey – TURSAB. This is a very significant quality mark in the tourism sector.
Before you book a trip, excursion or boat trip, make sure that the company you choose meets all the requirements and laws of Turkey and has a license to carry out tourist activities TURSAB.
To check the reliability of our company, you can click on the banner and get information about us on the official TURSAB website. You can also use our number 12560 for self-checking on the site.
Be careful and trust your vacation only to licensed companies!
Hakan Şahinoğlu – company founder
He graduated from the Faculty of Management and Administration. For many years he took charge in politics and civil society organisations. He was a deputy of the Parliament in Antalya Konyaalti municipality, he was in the position of executive vice-president, he was a representative in the city council, as well as the head of the budget commission and the head of the commission of the reconstruction and building.
Since 1985 is a founder of the group of companies, which contains Driving school, Real estate agency Antalya Houses and Brilions company.
At his leisure enjoys travelling and spending time with friends playing backgammon.
Anna Zakirova – company founder
She graduated from the International Advertising Institute. She has been leading the Company of websites' creation and technical support since 2000.
She is the co-founder of the Real estate agency, Antalya Houses and Yacht rental company, Brilions.
She believes that travelling can be a new source of impressions, that is why particularly sea voyages  became a basis of her business.
Her life aspiration is perfection of all she does, therefore  it is reflected on the high-level service of Brilions provided for its guests.