Long-wished-for parental dream – breaking stereotypes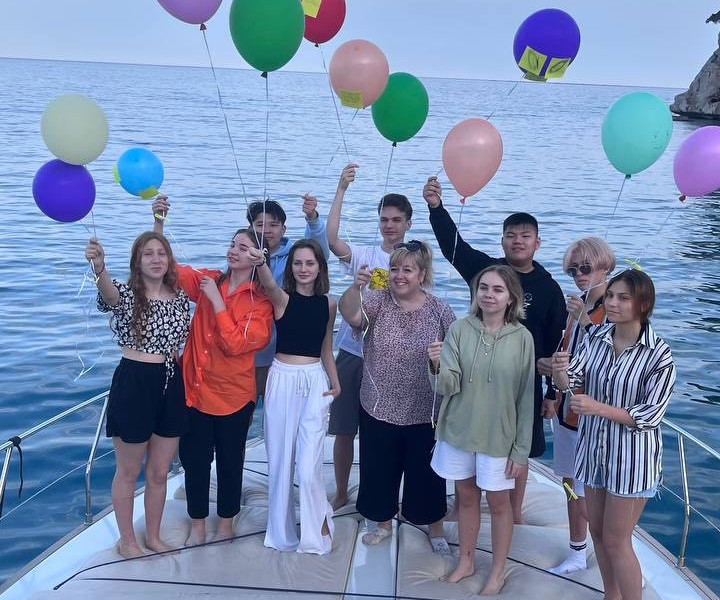 Graduation from the school is the happiest moment in the life of the child (and long awaited one for parents 🙂 And if you organize the school leaving party on the yacht – it will also be the most unforgettable for former students, and a magic pill against a how-to-organize-the-event headache for parents!
No need to organize anything in person. We will do everything instead of you: selecting a yacht for the right number of people, organization of entertainment, decoration of a yacht, organization of catering service, photo/ video shooting services, DJ and others. Just share with us all your wishes.

Safety. Children can retire from the yacht only by swimming – joke :). Of course, there is a crew on the yacht that will ensure the safety of children on board and at sea. Also there are life jackets on board for those who are not able to swim. Meanwhile parents can rest on land in a restaurant or be on board another yacht watching their children through binoculars :).

Alcohol. There will be on board just as much as parents wish it to be, or will be absent at all – it depends on you. 

No extra spending on prom dresses/costumes. The most suitable outfit for such a kind of party is a swimsuit and shorts, so the eternal problem, where to buy an original outfit disappears by itself.

Water Entertainment. DJ, music, karaoke – there is no novelty in it. Yet the photos in the school album on a scooter or seabob – it sounds good and original! A variety of water toys can be arranged  on the yacht on your request for a certain time or the whole day. 

The price that suits every pocket. If you think that it is very expensive to rent a yacht for school graduate party, you are mistaken. There are different kind of routes (for example, trip along Antalya coast or   visiting Kemer Bays), different timing of tours (for a whole day or half a day), various categories of yachts (luxury or classic) that make the rejoicing affordable, but no less memorable! Anyway school leaving party on the yacht cannot be common and boring! 
Entrusting us to organize one of the most important days in the life of your children, you will definitely get the Best Parent Award and shining of beloved children's eyes!