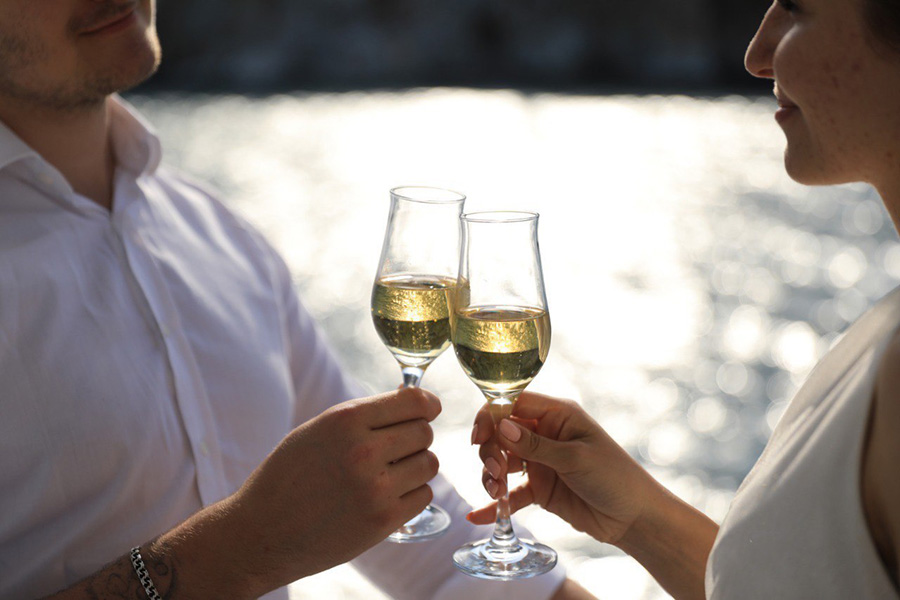 You know, making a proposal to the beloved ones can "shake the knees" even of very tough cookies. A bunch of flowers and a ring at a restaurant is a good idea, but not enough to tell your grandchildren "What a dreamer your grandfather was". Yet the proposal on the yacht is a completely different matter, so we share with you several ideas of original ones.
If your beloved one likes diving or snorkeling, you can arrange a proposal in a beautiful place underwater by unfolding a poster with cherished words  at the most unexpected moment! Meanwhile, the crew will decorate the yacht with flowers and balloons to provide a romantic atmosphere, which will be more surprising when you come back aboard.
For aesthetics lovers a picturesque place with a sunset view can be arranged! Just imagine how romantic it may be: delicious meals served on the table decorated with candles, glasses of wine through which the last sun rays go, sensual music… You will definitely start a new life – one life for you two! 
If you want your proposal to be a total surprise, go on board as if you are going to make a usual tour. Then when it gets darker the yacht will come to a place where the proposal text may be broadcasted with laser show (for example, rocks in Kaleichi in Antalya or one of the bridges in Istanbul). Or, if your beloved one does not like publicity, make your video-proposal and paste it into a romantic scene of the favorite movie of your dearest person, so that you may show it in the evening on a big screen aboard your personal yacht.
It does not matter whichever option you prefer, we will help arrange flowers, cake, candles and other stuff, along with the organization of professional photo and video shooting to preserve these beautiful moments not only in your memory.
Our team is always happy to take part in such events and do our  best to help you in receiving an answer with the most desirable words ever  – "I AGREE!".