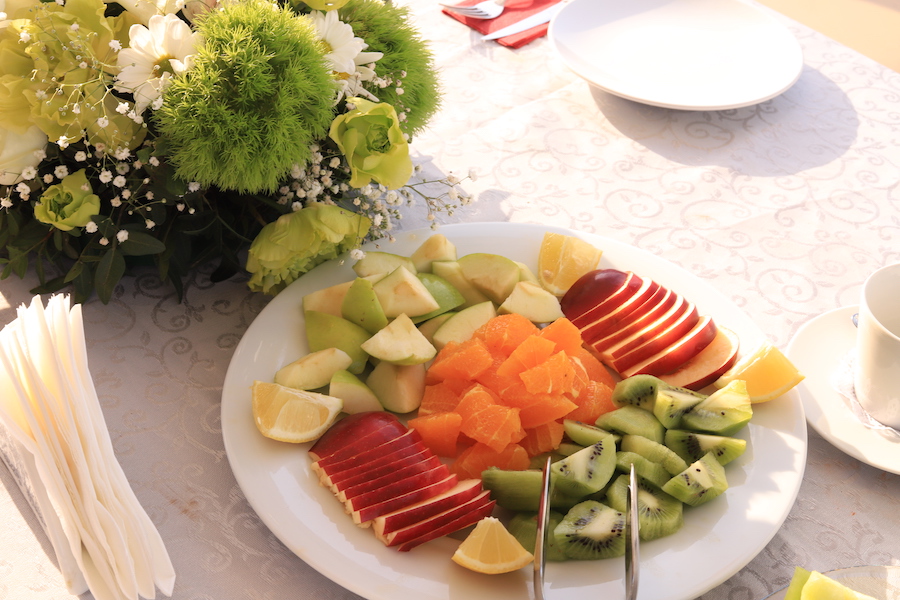 To eat, or not to eat, that is a question
Since the occasion takes place in a hot period here comes a question: Is it really safe to sit around the table on a yacht board?
Of course, yes! The victuals are bought according to the number of guests one day before tour or the same day. And only in a special market, which controls the shelf life of the products, pays attention to the storage requirements and takes them to the yacht in vehicles equipped with fridges. On a yacht board all of them are stored also in a fridge or freezer, and wait for their time.
Regarding the menu – it will be everywhere regularly delicious: on your table you will find various Turkish appetizers, which will differ from the chef and board. Yet the main course usually is grilled fish, Turkish meatballs or chicken, and served with a side dish such as French fries, rice, bulgur or pasta. Also on your table will be salads, seasonal fruits, snacks, etc. It is possible as well to provide a special menu for our young guests – something delicious that they will be begging for more! 
If guests have extra requirements considering the menu, our chefs are able to change it in the way guests want or add some specialty such as grilled prawns, squids, and others. 
If you are on a diet, no matter for beauty or health reasons, it is not an excuse to stay on the land – even smoothie menus can be prepared for you on a yacht!  
On every yacht there is a rich variety of beverage drinks: fanta, sprite, cola, juices, soda and ordinary water, etc. Among the alcoholic drinks the most popular are wine and beer as the lightest to drink in such hot weather, or you may explore the bar on the yacht in order to taste any heavy alcohol. Though if you want something really special and exclusive you may ask our manager in advance to make the required drinks be brought on board the day your tour will be conducted.
Enjoy your safe and comfortable rest with us!