Live your Dolce Vita just right now on board of our wonderful yacht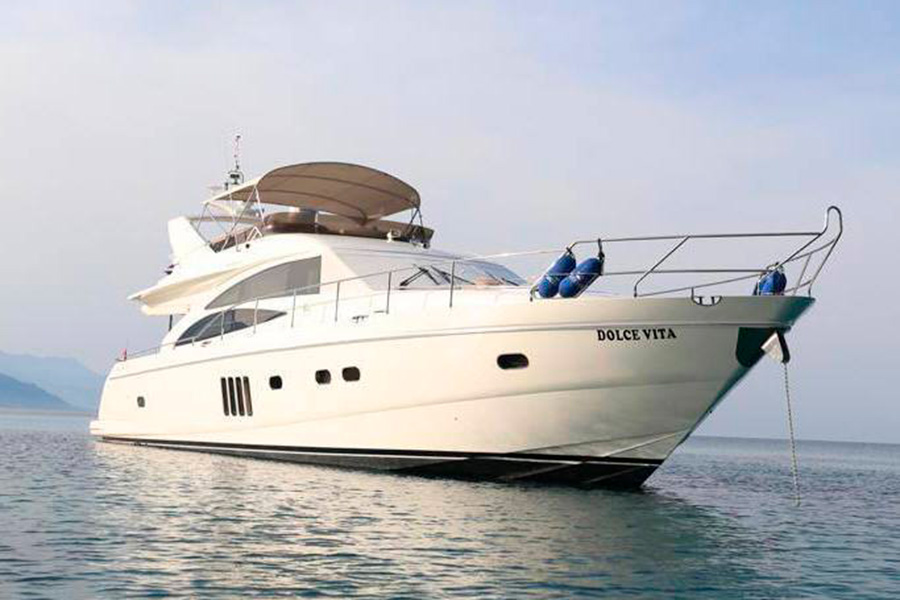 The luxury yacht Dolce Vita (model Princess 67) belongs to the luxury class yacht not only due to its manufacturer, but also because of the service provided on it. Our professional and hospitable crew works for your comfort and is ready to fulfill your wish predicting it beforehand.
The 22-meter-length beauty is ready to receive 12 guests aboard and accommodate them in 3 spacious and cozy cabins with all conveniences. You can comfortably arrange yourself  on the bow of the yacht – on the large cushions under the sun. For those who do not like sunbathing there is an opportunity to sit on the flybridge – with a breeze and a glass of champagne, or take a sit in the cabin under the air conditioning.
On board you will have an exquisite lunch or dinner – really a piece of culinary art, including numerous snacks, salads, meat and seafood dishes, which will be served at a large table in the open air, where you can comfortably settle down on the soft sofas and spend time eating with pleasant conversation. 
We are sure that no member of your family, not even the smallest, will be bored on board: in addition to wireless Internet, there is satellite TV, children's games for the young guests, as well as PlayStation for elder ones. Also there is a projection system on board that may make the sports fans incredibly lucky by providing an opportunity to watch any sports matches on a big screen during the swimming in the sea. 
This yacht is a paradise for water toy lovers! There are plenty of water sports on your request: from paddle board, waterski and jet-ski to the most exotic sifly.
The standard route of our beauty runs along the coast of Kemer and includes unusual coves such as Cleopatra's Bay, Ancient City of Phaselis, Paradise Bay, Moonlight Bay.
Tour times:
Standard morning program: 10:00 am – 04:00 pm
Standard evening program: 05:00 am – 09:00 pm
Whole day program: 10:00 am – 09:00 pm
24 hours program: 10:00 am – 8:30 am next day 
Feel free to contact us via any available messenger to feel the taste of "sweet life".